Learn French in Montpellier

French 1 on 1
Benefit from tailor-made courses to progress
To help you to improve quickly your French, we set up a tailor-made course to your availability and goals. It will allow you to learn efficiently at your own pace.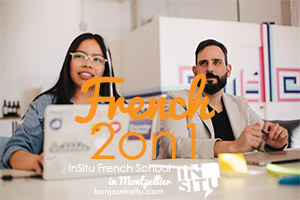 French 2 on 1
Learn in a pair, with these flexible and friendly courses
Benefit from a personalised approach while taking advantage of learning with someone you know thanks to a tailor-made programme adapted to your availability and goals.

French Touch
Just 3 hours to learn the French you need for your daily life in France!
This course gives you the basics and the tools to develop French by yourself. You will learn how French works, discover the secrets of French pronunciation, begin to organize your learning to ensure you progress quickly.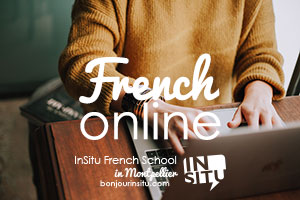 French Online
A safe and effective solution
Learn wherever you want with our online lessons – for one person or a small group. Convenient, safe and fun!

French Conversation
Study while having fun, and gain confidence and skill
Practise French with people at the same language level in a friendly atmosphere. Improve your oral skills, extend your vocabulary, and reinforce your grammar knowledge.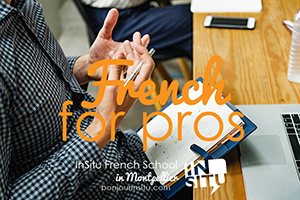 French For Pros
Become operational in spoken and/or written French
Organize professional training courses for your colleagues with InSitu French School. We set up individual courses and group courses adapted to the trainees' objectives and the business sector.
---
Due to the health crisis, these courses are currently suspended. Subscribe to our newsletter to be informed when they are resumed.

French For Groups
Come with a group and enjoy an unforgettable linguistic and cultural trip
Take your group to Montpellier for a tailor-made cultural and linguistic trip! Teachers, francophiles, colleagues, friends, families… we have solutions for you and we offer the most suitable courses, activities, visits, and accommodations.

French Focus
A course tailored to your specifications
Learn the grammar you need, thanks to our à la carte courses.

French For Schools
Give your students a memorable experience
Montpellier is the ideal setting for a thrilling immersion in French culture and language. Tailor-made study holidays for students are our specialty. Tell us about your objectives, and we will turn them into a plan.

French Cuisine
French cooking, while developing your language skills
Gourmets and explorers of taste: improve your French by learning, practising, and memorising while cooking, and pushe the limits of culinary practices and discover local foods, flavours, and recipes.
---
Study French in Montpellier