French 1 on 1
Enjoy the ultimate in flexibility with private lessons
To help you to improve quickly your French, we set up a tailor-made course to your availability and goals. It will allow you to learn efficiently at your own pace. French work contract? It can be paid by your society (Datadock Agreement).

French touch
Learn the basics of French in 3 hours
Learn French in 3 hours! This course gives you the basics and the tools to develop French by yourself. You will learn how French works, discover the secrets of French pronunciation, begin to organize your learning to ensure you progress quickly.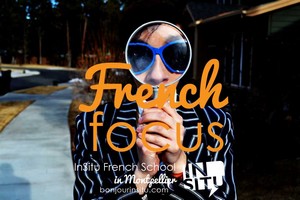 French Focus
Choose à la carte thematic courses
Learn exactly what you want to know and choose the French Focus course that suit your needs. Those short thematic courses explore a broad range of topics related to daily life themes.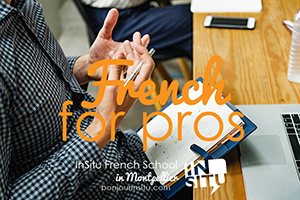 French For Pros
Professional training in French.
Organize professional training courses for your colleagues with InSitu French School, referenced in the DataDock. We set up individual courses and group courses adapted to the trainees' objectives and the business sector.

French Conversation
Improve your oral skills and get confident
Practise French with people at the same language level, in a friendly atmosphere. Improve your oral skills in French, extend your vocabulary, and reinforce your grammar knowledge.

French BnB
Enjoy a full immersion in French life
Go local with Elodie and turn your stay into a fun cultural experience! Progress quickly and almost effortlessly thanks to an immersive stay at Elodie's 100-year old house.

French Week
Discover the language and the culture
Improve your French while discovering Montpellier! Enjoy immersive French courses where you learn the language while exploring Montpellier and its surroundings through excursions and creative multimedia projects.