40 to 60 euros per 60-minute lesson (2019)
---
  GOALS
Progress rapidly in French, with private classes tailored to your goals, your learning style, and your schedule.
Fees may be covered by your company if you have a French contract.
◊ Courses can be supported by your company if you have a French contract: discover our program French For Pros.
◊ We create custom language and cultural programs: discover the program French 1-on-1 made-to-measure.
◊ Willing to have classes with another person? Check French 2 on 1.
PROGRAMME
These private classes combine informal discussion with formal tuition. During the discussion, I take notes of areas for improvement, which we then study together in the lessons. Language is brought to life through various activities based on your professional or personal centers of interest.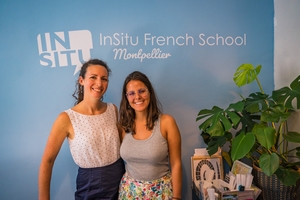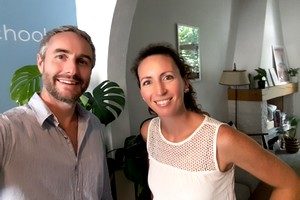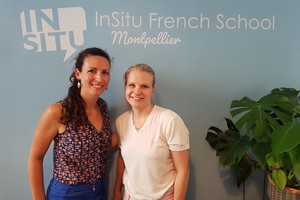 REVIEWS
Andrew Tate (Australia/England)
'I came to InSitu French School knowing only a few words in french but with the intention of learning french correctly as a long term goal. Elodie was extremely patient and took great care in helping me build and craft a very solid and correct base of the french language, to the point where after 7 weeks of hard work from both of us I was able to speak and comprehend and had the confidence to put myself in almost any situation, mostly with great success. The teaching method Elodie uses is great as it focuses on real-world situations and helps you build confidence to use the language right from the first day. She also addresses all the nuances between written and spoken French and helps to ensure you learn to speak as a native speaker would. Elodie was the best teacher, professor, coach, and language parent I could have asked for and she did it all with a smile. Whether you are in Montpellier for a short or extended stay, I couldn't recommend a better way to improve your French. Thank you again for everything and I will hopefully see you again soon, Elodie. Andrew'
'I came to Montpellier and had no idea where to study until I read the recommendations from here. Elodie is patient and helped me to work on my language weakness. She has a good methodology and a nice way to teach. And has good tips about Montpellier and other places to visit/what to do. It was a short time but really great!'
'I am very happy with my experience with Elodie. She is an excellent teacher, very friendly and the atmosphere with her is always very pleasant and relaxed. Learning French with her is a very effective way and Elodie is able to find just the right things for me to learn. I warmly recommend this school in Montpellier!'
'Elodie is a very experienced teacher and a great guide through the intricacies of the French language. I can't see how anyone could not benefit from her tuition.'
'My boyfriend and I had the pleasure to have Elodie as our private French teacher during our 1-month stay in Montpellier. We both enjoyed the one-on-one classes, which helped us to significantly improve our language skills as well as learning a lot about the city of Montpellier and its attractions, food, special and secret corners. We strongly recommend Elodie to anyone that aims to learn French in an effective and pleasant way right in the city center. Merci Elodie!'
Barbara Lehaf (Australia)
'Elodie is a wonderful teacher, very experienced, so kind, encouraging and patient. The notes Elodie prepared during our lessons are an excellent resource for future reference. The program was adapted to my specific requirements and I feel more confident in communicating in French, which was my aim. I would highly recommend Elodie to any student of the French language. Merci beaucoup!'
'This is the place to learn French! The school is convenient, comfortable, and very welcoming. Elodie was always very professional, but she has a knack for making you feel like you are visiting a friend. It's the perfect atmosphere for learning – relaxed but on point. In addition, she is flexible and can change the pace and focus of the lessons as needed. She also is very adept at using a myriad of resources for teaching and practice. In my experience, she does not have a set curriculum, but rather picks subjects and resources to fit the needs of the student. Her style of focusing conversation and lessons on real-life people and places in the area makes the lessons stick and also gives you a good feel for Montpellier and its surroundings. Elodie cares about her students and works hard to devise multiple strategies for learning. I would recommend this French school to anyone. Thanks for a great learning experience, Elodie!'
'You will be hard pressed to find a better language instructor in Montpellier. Elodie Ressouches/InSitu French School provides personalized and thorough French language training in the heart of Montpellier.'
'I have learned much more from Elodie than any other French course I have ever attended. Elodie teaches all kind of levels – while I was there, there were three other people having classes with her. Elodie has a pedagogical and very reasonable way of teaching. The classes will proceed exactly as you wish while being served a cup of tea, a madeleine cake, or slices of apple. Indeed, Elodie has managed to create a likable – 'hyggelig' (the term I would use as a Dane) – atmosphere.'
SCHEDULE
Weekdays from 9.00 am to 6.00 pm, according to your planning and my availability.
PRICE (2019)
Please note that our classes last 60 minutes and not 45 (as is usual in other schools).
– 1 hour = 60 euros
– 5-hour pack = 275 euros (55e/h)
– 10-hour pack = 500 euros (50e/h)
– 15-hour pack = 720 euros (48e/h)
– 20-hour pack = 900 euros (45e/h)
– 25-hour pack = 1100 euros (44e/h)
– 30-hour pack = 1290 euros (43e/h)
– 40-hour pack = 1680 euros (42e/h)
– 50-hour pack = 2000 euros (40e/h)
The cost includes:
– exclusive printed support documents designed by InSitu French School,
– a personalised document after each lesson, detailing the content we studied,
– an audio file after each lesson to review the content (beginners),
– multimedia exercises, resources, and activities to review, memorise, and rehearse what we learn during the class,
– an InSitu binder to store your documents.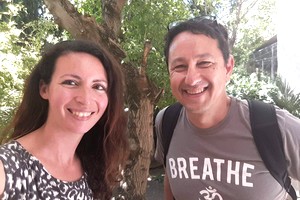 CONTACT
Don't hesitate to contact me for further information!
– +33 (0)6 28 04 44 09 (phone call or WhatsApp)
– elodie@bonjourinsitu.com
– "Contact" page
We can also meet online: during an informal meeting, we'll chat in English or French about your goals. If you already speak some French, I'll assess your level.
---
Other Courses
French 1 on 1
Enjoy the ultimate in flexibility with private lessons.
Read more
French touch
Learn the basics of French in 3 hours.
Read more
French Focus
Choose à la carte thematic courses.
Read more