Special Offer!
How about practising, strengthening, and deepening your French with fun classmates in a relaxed yet effective learning environment?
We offer free (no-strings) taster sessions with the 'French Coffee and Conversation' class.
---
GOALS
Practise French with people at the same language level, in a friendly atmosphere. Improve your oral skills in French, extend your vocabulary, and reinforce your grammar knowledge.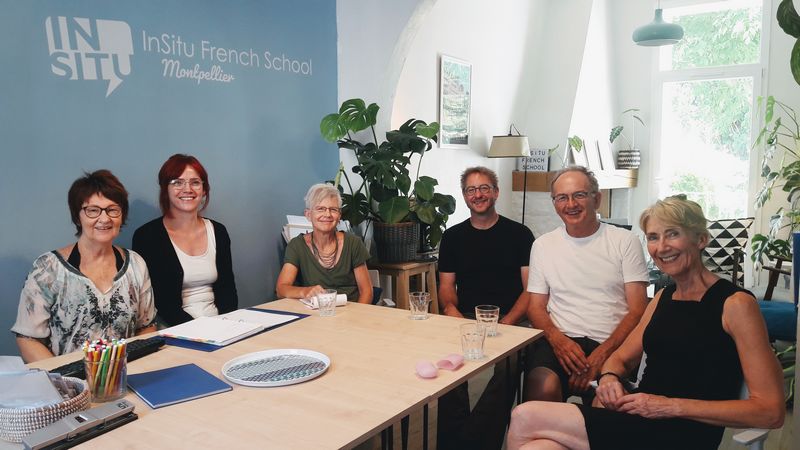 PROGRAMME
The class starts with a hot or cold drink. Then we start our conversation. As we talk, I identify vocabulary and expressions related to our discussion. I take notes on the mistakes, and we correct them together at the end of the class. We will sometimes work on a context-related grammar point. Notes are printed or sent by email at the end of the class.
---
---
SCHEDULE
Level 1: Beginner (A1/A2)
– not available at the moment
Level 2: Intermediate (A2/B1)
At InSitu French School 
– Tuesday from 2 pm to 3:30 pm.
– Thursday from 2 pm to 3:30 pm.
Online
– Thursday from 3:45 pm to 5:10 pm.
Level 3: Upper-intermediate & Advanced (B2/C1)
– not available at the moment
Attend 0, 1 or 2 classes per week, depending on your availability.
REVIEWS
'I cannot say enough good things about Insitu French School and Elodie, our teacher. I moved to France this past August 2018, but had not consistently taken French class since high school, so finding a school near me was important. There are a number of schools in Montpellier where one can learn French. So why did I choose Elodie and Insitu French School?
(1) This point is a little frivolous, but certainly was what piqued my interest: Elodie's website was the clearest and professional; it was very easy for me to understand my options, whereas the websites for other schools were unclear.
(2) Speaking of options, Elodie offers a number of different types of courses at different levels. ANYONE can find a class with her that fits his or her needs.
(3) I also really appreciate the flexibility of these courses. At other schools, you pay a price and you are committed to classes 5x a week. Given that I have other obligations during the week and live about 30 minutes away from Montpellier, taking class every day in a very formal way simply wasn't an option. With Insitu French School, I take classes twice a week, and if there is a day I cannot go, it isn't a problem. I pay when I go, I don't pay when I don't go.
(4) The class size is very small and can vary from 2 people to 8 people depending on the day. We all have an opportunity to speak and receive feedback.
(5) The age of the students varies. I like that there are people both younger than me and older than me when I attend class, and it feels like we are simply socializing with friends in the living room.
(6) Because class sizes are small, I have actually become friends with my classmates. Insitu French School has become a very important social outlet for me.
(7) Elodie is a gentle and EFFECTIVE teacher. If, like me, your French is on the weak side, it can be overwhelming to try to speak French. But I never feel judged by Elodie, and little by little, some of the reminders that she gives during the class are beginning to sink in. She is so patient; she will sometimes offer a correction and I KNOW I received that exact same correction in the last class, but she does not appear frustrated. This helps me to not become frustrated as well.
Learning to communicate in another language is a process, and while my own progress is slow, I am making progress, and my classes with Elodie are a huge part of that success.'
'If you are in Montpellier, and want to improve your French conversation skills, contact InSitu French School. I have spent three months participating in the twice-a-week conversation classes with Élodie at InSitu and highly recommend the school!
A talented, imaginative and creative teacher, she has a real gift at facilitating conversation, interjecting questions and offering some corrections during the first hour. It is a true skill to offer corrections appropriate for the level of the speaker, corrections that help but do not disrupt the flow of conversation. It is also a skill, usually unrecognized, to facilitate conversation among strangers, find common ground, and make people from many countries comfortable talking with each other.
While the conversation proceeds, she unobtrusively makes notes on her laptop. The class then spends the last 30 minutes reviewing grammar structures, phrases, pronunciation based on that hour's conversation. This is important! It means that students learn, at a level appropriate for each individual, exactly what one needs to use in conversation, because the conversation itself determines the vocabulary, the grammar, the common phrases. It is brilliant!
What's more, she is flexible, and creative, willing to accommodate student's ideas and preferences. When I mentioned that I make a list of phrases I stumble over when speaking with strangers, she was willing to help with that list. Élodie sends us the organized notes and corrections, which is very helpful for me, not only as a memory aid, but because they always provide a base for further study.
What's more, Élodie's enthusiasm is contagious, and the classes are always fun! She shares her knowledge and recommendations about Montpellier, so not only is my French improving, but I learn about the city, make friends from many different countries, and have a delightful time.'
'Elodie is a very experienced French teacher who is very adept at adapting teaching to the students' needs and interests. The school itself is welcoming and homely in walking distance from most of the time. I took the course "Coffee & Conversation" (once a week over several weeks). We talked together in a small group with Elodie, while she noted, answering questions and correcting along the way. Afterward, we went through vocabulary, grammar, pronunciation, and expression on screen. I made noticeable progress, both in French and language comprehension. I found that the course focused well on becoming a more confident French speaker in everyday situations, with example conversations around forming arguments and telling stories. The conversation was a great way to pick up examples of French phrases or grammar from our actual conversation. Elodie's way of correcting was impeccable.'
'I have been attending French Conversation classes at InSitu twice a week since September 2018 and I cannot be happier with the approach, style and content of our classes. Our delightful teacher Elodie is top-notch, very patient, easy-going and extremely knowledgable not only about all nuances of the French language but also about the Occitanie region (great tips!!). I really like the concept of her classes, the relaxing atmosphere, the superb notes that follow afterward and her cafe😀. It's a very enjoyable way of learning and improving your French and importantly (at least for me) at my own pace without much pressure. I am SUPER HAPPY to have found InSitu and I would recommend to anyone who wishes to try a new style of classes, plus in my opinion, Elodie is well ahead in technology as her classes are not only fun but extremely well structured. Pour moi, c'est le top !!'
Carolus Bokoema (Netherlands/USA)
'Elodie Ressouches of InSitu French School is one of the best French teachers, I have ever had. If five stars are the max, she deserves those all completely and six stars for friendliness. Elodie conducts small classes in her international school in downtown Montpellier. Sometimes, there are less than four persons per séance. Her style is conversational, applying the "nature" method with only the needed grammar, pronunciation and of course corrections. At the end of each séance, notes are being distributed and/or sent by email for further review at home. Starting at high school, I have had several French classes, private lessons in Saratoga CA, Alliance Francais (Campbell CA) for several 10+-week periods, Accent Francais in Montpellier for three weeks, and InSitu for several séances. Elodie is in the top 5% of all my French professors.'
---
Other Courses
French 1 on 1
Benefit from tailor-made courses to progress in your learning
Read more
French 2 on 1
Learn in a pair, with these flexible and user-friendly courses
Read more
French For Pros
Become operational in spoken and/or written French
Read more
French Focus
A course tailored to your specifications
Read more
French Touch
Just 3 hours to learn the French you need for your daily life in France!
Read more
French  Coffee & Conversation
Study while having fun, and gain confidence and skill
Read more
French for Groups
Come with a group and enjoy an unforgettable linguistic and cultural trip
Read more
French for Schools
Give your students a memorable experience with a trip to Montpellier
Read more
French Cuisine
For gourmets and adventurers in taste: French cooking, while developing your language skills